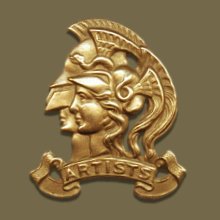 The Artists Rifles
The real Artists Rifles was a popular unit for volunteers. It had been increased to twelve companies in 1900 and was formed into three sub-battalions in 1914, and recruitment was eventually restricted by recommendation from existing members of the battalion. The clan is no longer active, and was led by Col. Polle along with Maj. Jokfil as his second in command. The 20th was an EU based clan, with EU friendly training times.
History
The 20th AR was formed by an ex-member of the 9th KOYLI, Polle, a while after its downfall. Several members from the 9th KOYLI joined up to fill its ranks, and many of them are still there. The unit used to own a small server but it has since gone down, which has led to some problems, meaning recruitment had gone to a near standstill for the unit.
These are the unit's current ranks (From lowest to highest):
Rec. - Recruit
Cdt. - Cadet
Pte. - Private
Rfl. - Rifleman
Pfc. - Private First Class
Spec. - Specialist
LCpl. - Lance Corporal
Cpl. - Corporal
Sgt. - Sergeant
SSgt. - Staff Sergeant
1stSgt. - 1st Sergeant
Lt. - Lieutenant
1stLt. - 1st Lieutenant
Capt. - Captain
Maj. - Major
Col. - Colonel
Ad blocker interference detected!
Wikia is a free-to-use site that makes money from advertising. We have a modified experience for viewers using ad blockers

Wikia is not accessible if you've made further modifications. Remove the custom ad blocker rule(s) and the page will load as expected.