The Lewis Gun was developed by US Army Colonel Isaac Newton Lewis. It was widely adopted by European armies upon the outbreak of First World War, 1914-1918. The gun was mainly distributed to Britain. 
Lewis Gun in WW1:Source
The Lewis Gun in WW1:Source has a smaller magazine than the German MG08 with 97 bullets per load. This machinegun also has a slightly slower fire rate than its CP counterpart, but has a slightly faster reload time.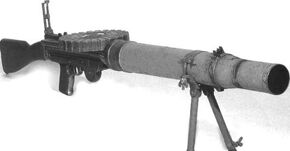 Ad blocker interference detected!
Wikia is a free-to-use site that makes money from advertising. We have a modified experience for viewers using ad blockers

Wikia is not accessible if you've made further modifications. Remove the custom ad blocker rule(s) and the page will load as expected.